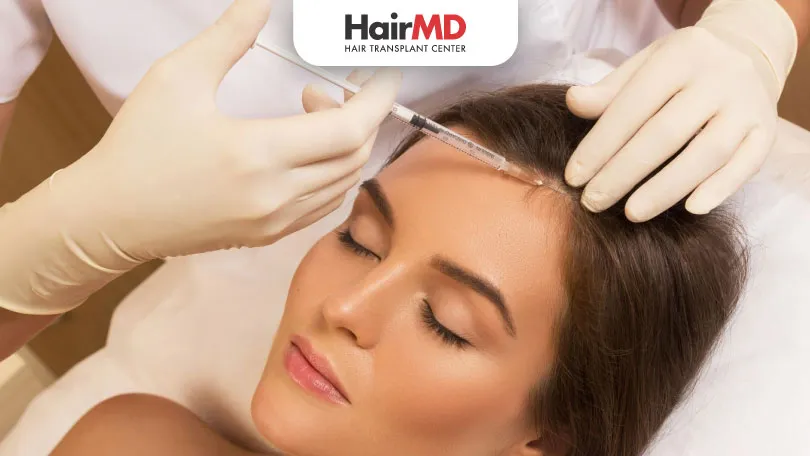 Are you experiencing hair loss? Get in touch with the best of our hair specialists in Pune to understand your hair condition. For a hair treatment or to get hair transplant, book an appointment with our dermatologists near you, call +919584584111.
Growth factor concentrate (GFC) treatment uses the growth factors in your blood to treat hair loss. In this medical procedure, growth factors are administered into the hair roots by injecting them into the scalp. In the GFC procedure, the patient's blood is collected in GFC tubes. Platelets are activated and growth factors are released using a centrifuge process. Growth factors are then extracted from the platelets. The GFs are collected with a syringe and injected into the scalp.
The benefits of GFC hair loss treatment include reduced hair fall and thicker and stronger hair. It is a painless and non-invasive procedure. GFC hair treatment success rate is high and it is a safe procedure. It takes only 3-4 sessions of the GFC treatment to give results. It is suitable for men and women with alopecia in its initial stages. GFC hair treatment results are very good, with most people experiencing good hair growth and an increase in the volume and strength of the hair after the treatment is completed. Here is information about the care to take before and after the therapy.
Table Of Contents
Before GFC Treatment
Avoid taking aspirin and blood thinners for 48-72 hours before the procedure.

Avoid the consumption of narcotic drugs for about 48-72 hours before the GFC treatment.

Check with your doctor for any blood tests that would be required.

Note that an anesthetic cream will be applied 30-45 minutes before the GFC treatment is administered.
After GFC Treatment
For a day after GFC therapy is administered, avoid combing on the hair or the scalp.

For up to a week after the procedure, avoid activities that could lead to sweating on the scalp.

Avoid exposing your scalp to heat or the sun, for 2-3 days after the GFC treatment.

'When can I wash my hair after GFC?', people often ask. Do not use any shampoo on your hair for 1-2 days after the treatment.

Use the topical medicine given by your doctor and before using any hair products, consult your doctor.

An ice pack or cold compress helps reduce swelling. Apply this if required, or as advised by your doctor.

Do not smoke. Avoid the consumption of alcohol and caffeine for 3 days after the GFC therapy is administered.

During the first week of the treatment, drink plenty of water.
So, this was an overview of the GFC treatment along with some tips on the care you must take before and after the therapy. If you are experiencing hair loss and thinking of opting for this treatment to restore hair growth, you must consult a dermatologist. You may be searching online with terms like 'best GFC treatment near me' or 'where to get GFC treatment for hair'. You will see multiple options to select from. Opt for a healthcare facility that is good, in your vicinity, and where experienced doctors administer this treatment. One of the best places to approach for any treatment or advice related to hair loss or other hair conditions is HairMD. They have a team of experienced doctors who specialize in treating hair conditions. With their guidance, you will be able to achieve healthy and beautiful hair.
Are you looking for hair fall solution? Get in touch with the best of our hair doctors in Pune to cure your hair loss. To book an appointment for a hair treatment or hair transplantation, contact our dermatologists near you, call +919584584111.