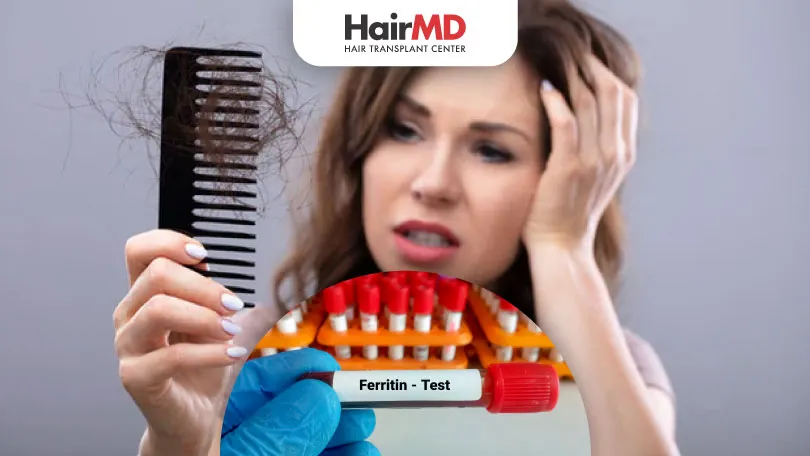 Are you experiencing hair loss? Get in touch with the best of our hair specialists in Pune to understand your hair condition. For a hair treatment or to get hair transplant, book an appointment with our dermatologists near you, call +919584584111.
Table Of Contents
Why Ferritin for Hair Loss Treatment is Important?
Did you know that iron deficiency in your body can directly impact the health of your hair? Iron plays an essential role in the proper functioning of the body. Low iron can lead to anaemia and affect the blood supply in the body, including our hair. Iron also helps maintain the level of red blood cells that transport oxygen in the body to various organs and tissues. A reduction in the number of blood cells can lead to hair loss as the blood and oxygen do not get distributed to the scalp and hair follicles. 
What is Ferritin?
You might be aware of iron deficiencies but may not have come across the word ferritin. It is the protein present in the cells that stores iron. Therefore, being low on your ferritin levels means the body has iron deficiency. Low Ferritin and hair loss are inter-connected.
Why Ferritin for Hair Loss Treatment is Important?
Ferritin is available in different parts of the body and also available in hair cells. When the body feels a lack of iron for making new blood cells and circulation of oxygen, it borrows ferritin from the hair follicles, leaving them weak and prone to breakage.
Some Iron-rich food to store a good level of ferritin include –
Green Leafy Vegetables

Cocoa powder

Oatmeal

Tofu

Paneer

lamb and beef

Nuts

Pumpkin

Spinach

Broccoli

Parsley

Lentils

Potato 

Cabbage

Peas
You may be suggested to take iron supplements to replenish ferritin deficiencies for hair growth. But if your body's ferritin level is normal, then supplements may not aid in hair growth or reduce hair loss.
Get a ferritin test done to know your level from certified dermatologists. After a thorough test, Dermatologists can tell you how much extra iron level is required by your body. They can help you with the right treatment and give you back the hair of your dreams. 
You can also visit HairMD to get accurate test results, understand the reason for hair loss, and receive treatment plants to suit your condition for the best results.
Are you looking for hair fall solution? Get in touch with the best of our hair doctors in Pune to cure your hair loss. To book an appointment for a hair treatment or hair transplantation, contact our dermatologists near you, call +919584584111.